»The future is uncertain, but we will be back« is one of the sayings of the AMRO community, whose festival meetup had to deal with precarity and uncertainty for many years. At the end of every edition, looking towards the future, the community greets each other like this, being sure it will find ways to meet again, somehow and somewhere.
The motto echoes back particularly strongly at the end of 2022, with the fragile post-pandemic economic, social and political conditions shaken by the Ukrainian invasion. Now that every existing equilibrium oscillates, many entanglements that were taken for granted are being questioned and new fragilities of the globalized dynamics become visible. Even the simple increase in electricity costs just joined the already long list of things to worry about.
At the moment of writing this text, the previsions for electricity bills for 2023 vary between 100% to 300%, which means that servus.at could potentially need from 2 to 4 times more resources to run the same infrastructure as today. No worries, we are working on that and, luckily, in the past year could already switch a few of our old energy hungry machines and now more steps are to be taken to make our infrastructure less needy. This is nevertheless not only a technical problem, it opens also interesting spaces for reflection on the way non-commercial initiatives react to such problems. Not surprisingly, the consequences of the rising energy costs are handled way less emotionally in commercial entities, who either manage to outsource their additional costs to their customers or quit, both done without considering much what that means for the people relying on it. We also see that, in one way or the other, the big fishes will still find their ways of generating profit and thereby continuing with their projects, also infrastructural ones. As a side note on this, we salute the news that Google finally started the construction of their long-awaited data center in Kronstorf, which we visited with the artist Christina Gruber during the AMRO Research Lab 2019 (see below).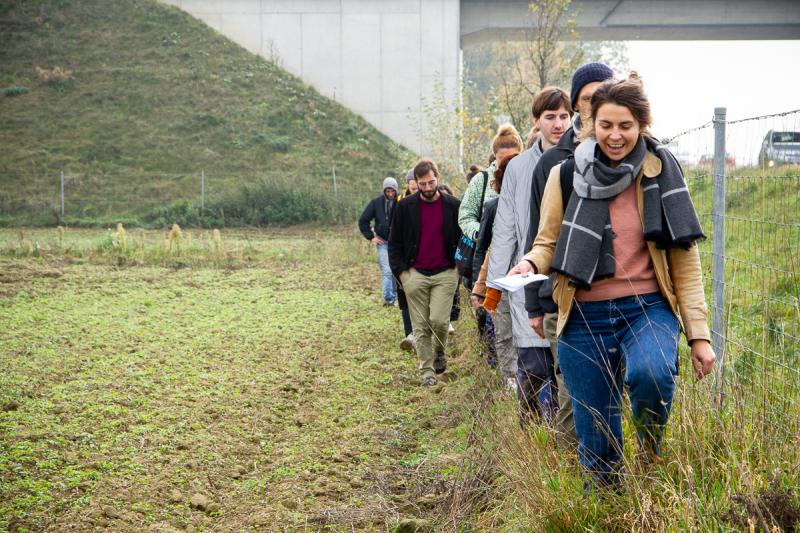 Walking along the border of the Google property in Kronstorf to estimate its size. (Foto: Eva Maria Dreisiebner)

The 2023 AMRO Research Lab is an occasion to address how the independent server infrastructure becomes a space inhabited by communities and ideals. Since 1996 servus.at is focusing on the impact of open-source on the local and international art and culture scene, seeking independence from commercial Internet corporations by operating its own Internet infrastructure in a self-administered data center in the Stadtwerkstatt Linz. The digital services that are operated here are offered to servus members, the Upper Austrian cultural scene, and the community of artists and activists who are engaged throughout Europe with the issues of radically opening up technology through artistic practice. This is how servus sees itself as a cultural data center, a »backbone« dedicated to artistic and cultural practices where technical infrastructure (access points, production environments and powerful connections) goes hand in hand with artistic research and production.
All this is based on the conviction that the works of artists using independent and experimental platforms gain a certain critical power and conceptual density that would not be there otherwise if they would use any other commercial tool. Despite the constant challenges, servus.at and its sister association mur.at are one of the few remaining »art servers« in Austria, hosting networks of radical art creators that now call again for documentation, visibility, and circulation.
The motto for the annual program 2023 »What lives in our data center?« refers to this. We will be looking at digital services and content, but also at the communities that use the servers of servus.at as a meeting point and production environment.
One example is the section of the Artist Run Data Center. ARDC defines a pool of approximately 20 Virtual Machines in our data center that are hosting projects from artists and collectives from the servus/AMRO community. Initiated through residencies or Research Labs, these shared computational resources are used as a collaboration platform for/between collectives.
A recent project is the Minamisanriku – Hague Special Art Experiment Zone (SAEZ)1, a virtual residency project that connects the port cities Minamisanriku and Hague organized by the AMRO community member Yoshinari Nishiki (a.k.a Inari Wishiki2).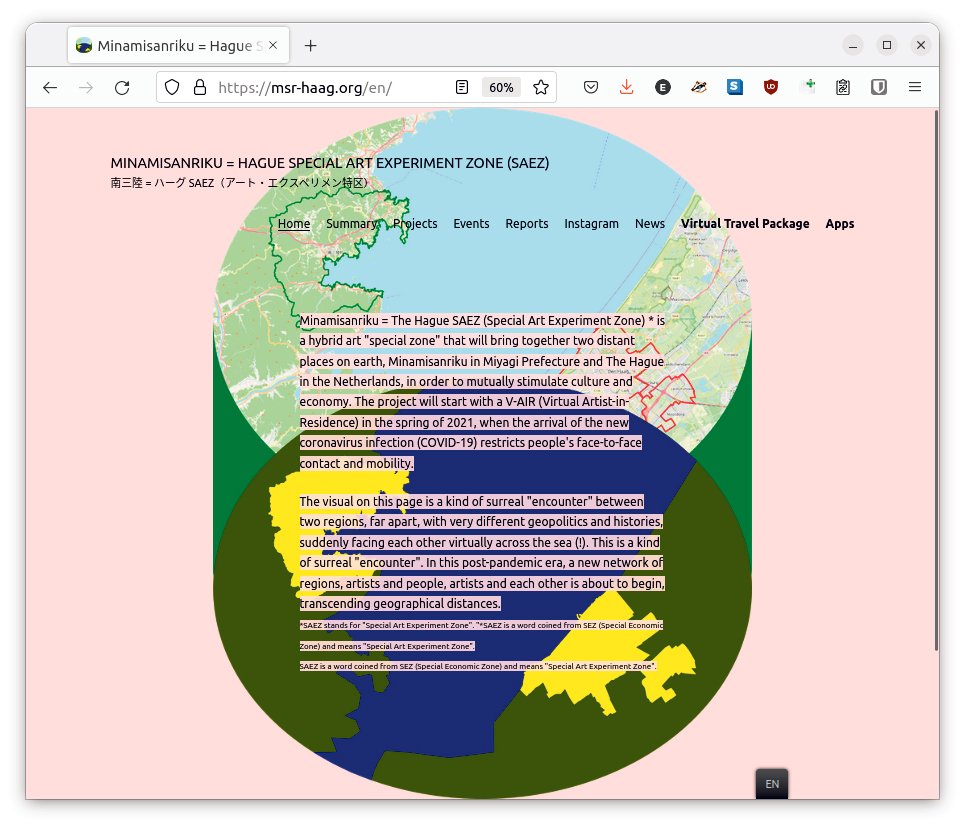 Minamisanriku – Hague Special Art Experiment Zone (SAEZ)

A long-term VM project is the Pervasive Labor Union zine, a project on social network work initiated in 2015 by Lídia Pereira. The different issues of the zine focus on specific subtopics, such as »Like Buttons«, »Pervasiveness«, and also »Post-Truth Publishing«.3
The RL23 will give space to current and new forms of virtual spaces for art production, conceptually continuing the research developed in the Next Cloud Residency and Atelierhaus.
The work on topics of infrastructural sustainability addressed last year with Hosting with the Other as well as in the RL19 and AMRO20 will be spun further this year. Thematically, we want to question the current muscle-building trend in technology that believes that we need »more data = more computing = more electricity = more emissions = more heat« to solve all our problems. Maybe progress is not necessarily about launching the next costly trained Machine Learning model to get the automatic answer; solutions could also come via methods inspired by the »degrowth« or »post-growth« debate. Low-powered Internet, self-hosting, and hyperlocal networks, as well as permacomputing and a collegial approach to technologies, seem to have promising hints worth testing, on which alternative forms of contemporary data centres can be built. This session is currently planned as a Server Friendly Summer Camp for the hot season. We are still deciding if we'd join the Sommerfrische by camping in the server room or if we move our infrastructure up on the glacier. More to come!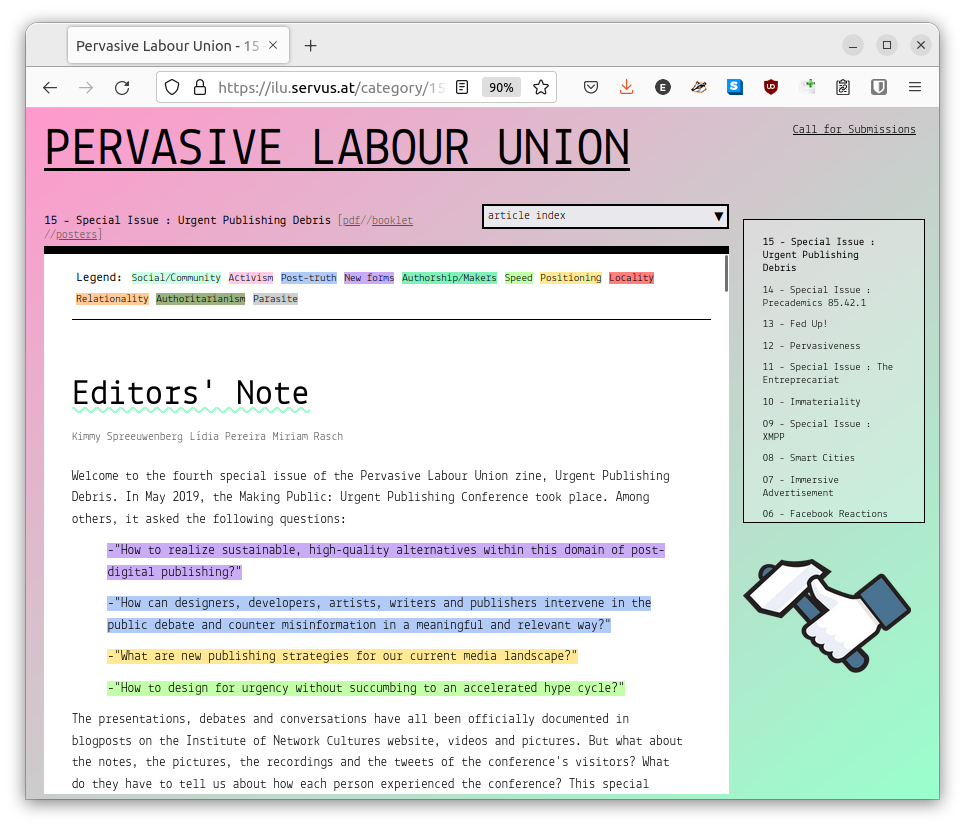 And alongside these two moments envisioning modalities of technical infrastructure, we also want to explore what can be done with these tools. With the artist S()fia Braga we bring further research on generational connections & online activism: in this Lab we will observe how new forms of activism are dispersed across different platforms, taking advantage of the properties of software to convey socially relevant messages. What can F/LOSS (Free/Libre Open Source Software) and privacy-oriented activist communities from Gen Z activists who are turning user agreements on their heads in the walled gardens of Big Tech?
And finally, in the second edition of the Servus D*sign Week we want to be looking at the tools that the web is designed with. Like the first event in 2021, servus organizes in cooperation with RadioFRO and Potato Publishing – this time also with VisKom from the Kunstuni – a week of workshops and conversations on design and politics. In the 2023 edition, we will address the tropes of the Commons and Openness in the design process and the cross-modalities of web2print techniques.
All this, and some further workshops and events that will emerge and evolve over the year, will be announced in our Newsletters and documented on the research blogs of the AMRO Labs 2023: https://research.radical-openness.org
To stay up to date, make sure you follow our channels and especially our account @servus@servus.social.at on Mastodon, a decentralized social media that is currently getting a lot of attention due to the new <del>experimental</del> disastrous management of the bird site (Twitter).
The Arrival of the Cloud - or Let Me Google That For You
By Christina Gruber.
After 14 years of waiting, it seems that the Google data center in Kronstorf, Upper Austria, will be built after all. Many hopes hung and still hang on the location of the data center in the »POWERREGION« (https://www.power-region.at/). But a lot has changed since 2008, not only have our requirements for the cloud increased in terms of storage capacity and stability, but also the growing interest in data security, and questions about who can dispose of our data and local supply units. In addition to these concrete demands on the cloud, we are experiencing the warmest October since weather records began in Austria and our rivers are struggling with alarmingly low water levels. At this very moment, on October 24, 2022, local and international media are reporting on the concretization of Google's arrival in Kronstorf. Could it be that the rapid warming of our planet and the expansion of Google's cloud network are related? One of the reasons for the location is the close proximity to the Enns River and its hydroelectric power plant, as well as the possibility to extract water for cooling the data center. These small-scale changes have major impacts on sensitive aquatic habitats. For fish, a water warming of 0.1 degrees Celsius causes stress and accelerated metabolism because they are ectothermic, which means that their body temperature is dependent on environmental temperature. This can cause reproductive cycles to go haywire or stop altogether. In addition, parasites that previously could not survive the cool water temperatures may become established. Thus, it is questionable whether the supposedly sustainable cooling methods in data centers are really as »green« and sustainable as they appear. Most of the time, this view is focused on only one species and that is ours, or more precisely, the Digital Consumer. But it is precisely the latter who often follows the Let Me Google That For You principle and should therefore quickly come to the conclusion that, in the fight against the climate crisis, the exploitation of water bodies and the building up on green spaces are no longer appropriate and contribute to global warming.
Christina Gruber is an artist and freshwater ecologist, who works at the intersection of art and science. In her work she deals with societal phenomena and their effects on the earth's surface. Water is of special interest to her. Christina sees it as the element all things on earth have in common. It is the connector between stories of different places and layers, running through everything, from clouds to data centers. http://www.christinagruber.net